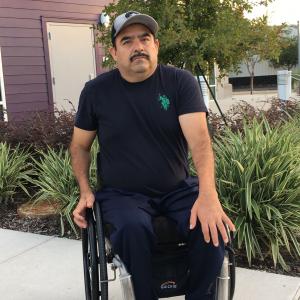 Francisco Cedillo
Treasurer
Hi, I am Francisco Cedillo and I am from San  Luis Potosi, Mexico.
I want to share a little of my life: I came to the United States in 1991. I wanted to succeed, in my mind I had many things I wanted to do but unfortunately I could not achieve them because one day, as I was playing pool in a bar I saw two men that were breaking into my car in the parking lot, I went out and there I was hit in the head with a tire iron and I was left paralyzed. This is how I was a victim of a crime and from that day on my life changed entirely; things have become more difficult but not impossible because there is always someone around you that will give you a hand and thanks God I have been able to overcome this and move on.
Now I am working with an organization called Living Hope Wheelchair Association, it is made by people with disabilities, I am the treasurer of the association and I really like a lot to help other people that are in the same situation as me.This Association helps with medical supplies and equipmen to those who are in our same situation. We also give them courage and help them to keep going, we visit them at the hospitals and give them moral and spiritual support and the organization participates in rallies defending human rights and we try to improve public services in the city. I encourage all to give your best effort, life does not ends there after the accident and we all can keep going forward with faith and trusting yourself.