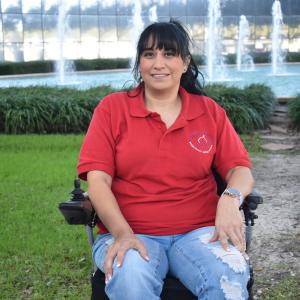 Maria Mercado
Service Navigator
Maria Mercado is service navigator
Marychuy seeks financial assistance from various organizations for help from the community in matters of rent, electricity, water, and others. She also searches daily for food bank addresses to share with our members. She trains people how to fill out food applications so that it arrives at their door.
Maria is was part of the team of visits and accompaniment to patients. The group visits people who have just had an accident and are in a hospital or isolated at home. Marychuy is also involved in social change and public policy.
Maria Mercado is an immigrant initially from Guadalajara, Jalisco, Mexico. In 2002 she suffered a car accident; as a result, she developed paraplegia.
She lives in Houston, Texas, next to her husband and two wonderful daughters.