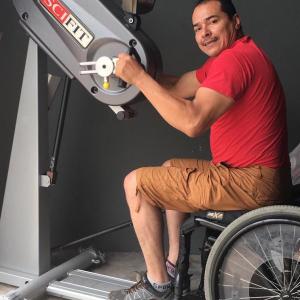 Raymundo Mendoza
Board Secretary
Hi, my name is Raymundo Mendoza and I'm an immigrant worker, as well as the Secretary for the Board of Directors of Living Hope Wheelchair Association, an organization for people with spinal chord injuries. My life before my accident was like any other's: I danced, jumped, played soccer, and had many aspiration for the future, with my kids and family in mind.  But unforutnately, all my dreams were lost, there are things that one cannot foresee. Lamentably, I suffered an accident that caused an injury to my spinal chord. I was working on a 25-feet-high pine, that was when, due to fate, I suffered a tragedy. The cable I had tied around me became loose, and I fell, unable to stop myself. When I tried to get up, I couldn't. I couldn't feel my legs anymore, my spinal vertabrae had been broken.
When I was finally taken to the hospital, doctors told me I would never walk again. However, I didn't give up, and with the help of my God and my family, I have been able to move forward. Now, I can go where I want, conquering the world while at the same time showing the whole world that when the will is strong, it is posible to persevere, despite all the obstacles that may be in the way.
Now I am the Secretary of Living Hope WHeelchair Association, giving moral and psychological support to people that have recently had their accident, and providing them with the medical supplies neccesary for the everday life of a person with a spinal chord injury, and that many are denied due to lack of legal immigration status. I have also participated in marches and protests defending the rights of workers against racist laws, and also fighting for a humnatarian visa for people with disABILITIES, participating in community forums, organizing fundraising events, carwashes, raffles at churches, and garage sales.
This has been part of my life after my accident. The  advice that I'd give people after their accident is that life does  not end. Life continues and it is possible to overcome with a lot of energy and enthusiasm. Today I am proud to participate in the struggle to stop the deportations of our people and demand respect of our human rights.
May God bless you.